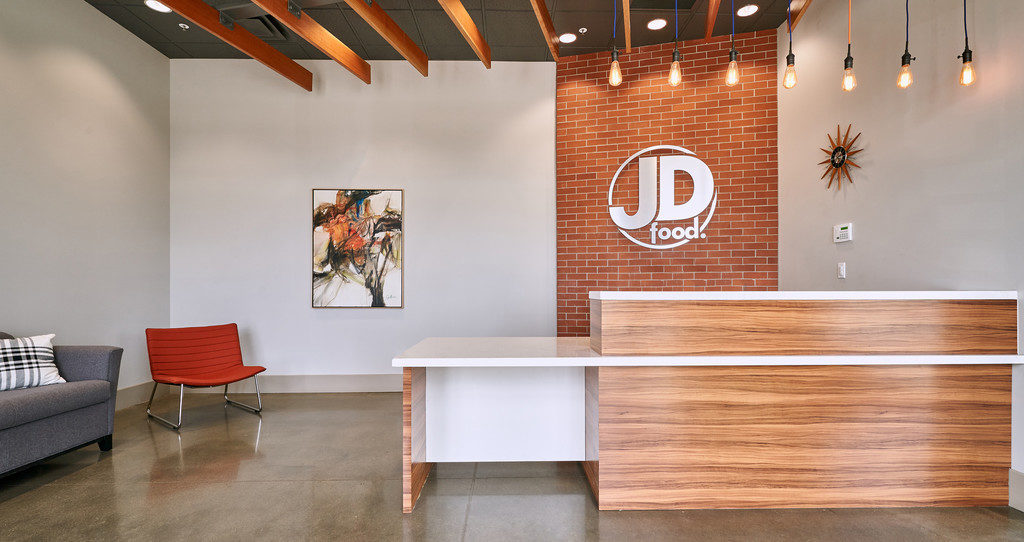 Industry: Business
Design Firm: Facility Designs
Client beginning in: 2016
Goal: Third generation, family-owned & operated, JD Food is no stranger to change. Throughout their evolution, JD Food has become one of the largest local food distributors in the San Joaquin Valley while operating under the same principle of providing fresh, honest food. Starting as a meat processing company, JD Food has grown into distributing more than 5,000 products from over 250 suppliers. Too large for their old space, Facility Designs created a space designed for growth. Greeted by exposed brick and the company's signature logo behind the mid-century, modern style reception desk, clients & staff are welcomed into the spacious facility. Around the corner, you enter the open office, which features unique Herman Miller standing screens that double as tack boards, providing an innovative and collaborative area. Mirrored glass encased meeting rooms, adorned with Herman Miller Eames Molded Plastic armchairs and elegant Nelson Saucer Crisscross Bubble lighting, provide a clean and quiet space for more private meetings. While Herman Miller's Exclave table also known as the "Guitar Pick table" adds a modern element to the executive's office. The breakroom featuring National Office Furniture seating and a bar height Strassa table provide the JD Food team with a comfortable space to enjoy a break and socialize. Facility Designs is pleased to provide a space for JD Food to continue to provide fresh, honest food locally & beyond.